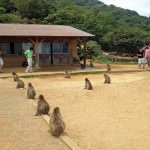 Monkeys are the closest species to humans and they are often portrayed in proverbs and sayings as stupid and incompetent. For example, 'monkey brain' means 'stupid', 'monkey about' means messing around. But are they really silly? Arashiyama Monkey Park is a very rare place where you can observe how monkeys behave, and buy them bananas to feed them from inside a cage. You can see baby-monkeys chasing each other around, wrestling with each other and climbing or jumping off trees. Arashiyama Monkey Park has come to be known worldwide since Tom Cruise visited there and introduced it to the public. Even though they are tame, they are wild animals. When you are in the park, please follow these three rules and enjoy the time with monkeys!: 'Don't feed them, touch them or make eye contact with them'. The entrance to the monkey park is near the JR Arashiyama station, and it's about 30 minute-uphill walk from the entrance.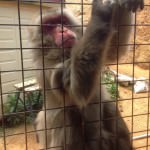 The monkeys are neutral towards people. They see people as neither a friend or foe, and therefore the monkeys will ignore people. These wild monkeys usually live in a group of thirty to fifty in nature, but about 140 monkeys live in the park. It's very unusual to see this many monkeys in one place. Monkeys living in the central part of Japan near Nagano are called 'Snow Monkeys' and have become worldly-famous since they were introduced during the Nagano Olympic Games and by a National Geographic special. All the monkeys have their own names at the Arashiyama Park, and the maternal family history and the year of birth have been recorded for all the monkeys since the park's opening in 1957.
Four seasons: Baby monkeys are typically born from April to July, and you can see many new-born monkeys during this period. and become mature in 10 years. Their average life span is about 30 years. Female monkeys usually live longer than male monkeys. The oldest monkey at the Arashiyama park is 34 years old. They are omnivorous, but not carnivorous. They eat nuts, leaves, mushrooms and insects. During the hot summer months, adult monkeys will rest in the shade for most of the day. But young monkeys are still active. Fall is the busiest season for the monkeys. They will try to as much food as they can, preparing them to endure the cold winter season. The Fall is also their mating season when their faces and posterior turn red and males start to court females. The atmosphere in the park is tense and all the monkeys are nervous during this period.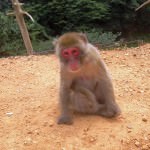 They do not have a specific den: They find a new place to sleep every day. They always choose places like steep cliffs or trees. When monkeys do choose a specific den, they will keep the inside of the den clean and they will eliminate outside of the den. On the other hand, monkeys do not have a specific den can eliminate anywhere they like. Though monkeys are clever, it is impossible to train them to use a toilet so it's said that monkeys are unsuitable as pets.
The lives of males and females: All males leave their natural troop once they mature. Males are in constant motion in their territory (several kilometers in radius). Sometimes several males make a group but in most cases they roam alone. Female monkeys stay together and remain in their natural troop, especially with relatives (mother and her baby, grand children, brothers and sisters) during their lifetime. They eat, sleep and relax together. Females give birth every other year. Their gestation period is about 180 days, and one female will have about 10 babies in her lifetime.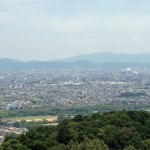 Society: There is a strict hierarchy in a troop. The highest-ranking monkeys are will prevent unwanted fights in the troop, but this doesn't mean high-ranking monkeys control the lower-ranking monkeys.
Family: In the society of the Japanese monkeys, both males and females have many partners in a breeding season. Only females will raise baby monkeys. Male monkeys do not get involved with child-rearing. You can see mothers breast-feeding infants, and carrying babies on their back.