In the heart of Tokyo is a location you don't want to miss while you're there. Asakusa is not only a tourist hotspot- but you really get the traditional Japanese culture feel while you wander through the Nakamise Shopping Street leading from Kaminarimon Gate to Sensoji Temple. Asakusa used to be known as the leading entertainment district. However, most of the area was destroyed during the World War II air raids in 1945. While Asakusa rebuilt, the entertainment district was never truly rebuilt there. 
The most traditional part of Asakusa is the Sensoji Buddhist Temple and the Asakusa Shrine, where you will learn about Buddhist and Shinto Japanese religious practices. The Sensoji Temple is not only known as the most colorful temple in Tokyo, but it is also the oldest temple, having been completed in 645. However, the temple's main hall and five-storied pagoda were rebuilt after they were destroyed in the war. The Asakusa Shrine, standing just a few dozen meters from the main hall of the Sensoji Temple, was not destroyed during the air raids.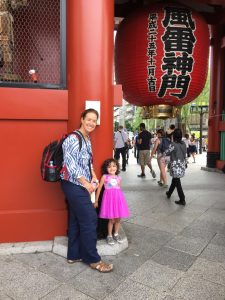 When you arrive at the Kaminarimon Gate, make sure and take some time to take photos with the gate and oversized lantern in the background. As you walk down the Nakamise Shopping Street you will find approximately 90 stores with a variety of street foods, mostly traditional Japanese sweets and gift items. Enjoy the foods offered along the way- but remember, eat what you buy in front of the store you purchased it from, or take it to-go for later. Eating while walking in Japan is frowned upon.
You will not want to miss the traditional culture you get from the Asakusa area in the middle of modern Tokyo. Almost all of Samurai Tours' escorted tours that have a full guided day in Tokyo go to the Asakusa area- this is how much of a "don't miss" place we think it is!