Cosplay in Japan is very popular and quite a big business, with many shops, events, and even conventions dedicated to the fun pastime.
"Cosplay" is a contraction of costume and play and consists of people dressing up as characters and acting out scenes. These characters are from books, movies, video games, TV shows, and especially anime and manga. The practice was born in Japan and in Tokyo especially, there are many different places where you can go and see people in costume.
Indeed, the number of businesses that have cropped up supporting the practice is astounding; many little (and some very big) shops selling clothing, accessories, hairpieces, makeup, etc. to put together a costume. Cosplayers will spend hours and sometimes enormous amounts of money to create their costume. Once they have completed their look, they will take on the persona and behavior of the character.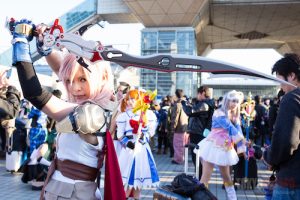 Comiket, or Comic Market, is one of the largest events within the anime, manga, and cosplay world. It takes place twice a year on Odaiba, an artificial island off Tokyo, and attracts thousands of people. In this three-day event, the cosplay on display is very elaborate and over the top, and most people will be more than happy to pose for photos. There are also many stalls selling merchandise, and stalls with well-known artists and writers.
The World Cosplay S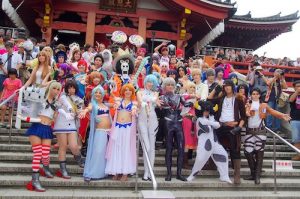 ummit is held in Nagoya and brings in cosplayers from around the globe. A panel of cosplay celebrities judge contestants on criteria including the craftsmanship of their costume, their performance, the faithfulness of the outfit to the original, and its overall impact. Then one lucky cosplayer is crowned "The Ultimate Cosplay Champion".
These events, among many others, bring many different characters into the Japanese cosplay culture and provide wonderful entertainment for locals and tourists alike. Many of our tours offer a free day in Tokyo, where you can visit the places that are common to see cosplayers in action. Click here for our tour schedule!