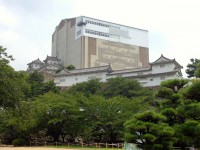 There is little doubt that Himeji Castle is the best castle to visit in Japan About three years ago, the renovation of Himeji Castle was announced in order to preserve the castle for future generations, and to pass on the old methods to the future generations for whenever the next renovation will be needed. The renovation began in April of 2010, and is scheduled to last about 5 years. At present, the renovation is about half-way completed. After seeing a special on NHK about the renovation on Himeji Castle which grabbed my interest, I decided to visit myself to find out how things are progressing.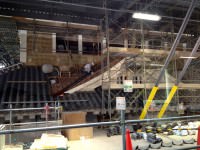 The emphasis of the renovation is two-fold. They are either replacing or repairing all of the roof tiles on the main castle tower. And they are also replacing all of the plaster walls on the main castle tower. This is a lot of tedious work, as both of the these require the removal of the old tiles and plaster first without damaging the castle tower infrastructure.
Immediately upon exiting the train station in Himeji, the protective structure built over the main tower is visible. They have painted a picture of the castle on the side of the structure as it would appear if the structure was not there. As you get closer and closer to the castle, the size of the protective structure grows, giving you a preview of the immensity of the project at hand.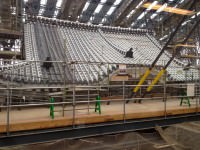 As you enter the main castle gate, you are guided by signs indicating the route you should follow in true Japanese fashion. Eventually, you are led to the entrance of the protective structure. There is an additional charge to enter the protective structure, but it is minimal and well worth it. Here is where you will get an up-close view and explanations of what is being done. You can even take the elevator up to see the work being done on the roof. Having been to Himeji Castle many times with tour groups, this was the first time I had an up-close and personal view of the main tower. It was certainly impressive.
There are many signs (in both Japanese and English) explaining what was being done. The thing that impressed me the most was that as with many other things in Japan, the renovation involved processes that were both hundreds of years old as well as modern, state-of-the-art processes. For example, the "recipe" for creating the plaster mix was the same used 400 years ago when the castle was originally built. Items such as ground-up sea shells, hemp fibers, seaweed starch and other items were used to create the mixture. At the same time, computer models are being used to locate potential weak points in the castle against earthquakes. About 30 of these had been identified, and plans were being made how to best increase the resistance of the castle to earthquakes without destroying the "antiqueness" of the castle.