In Hiroshima, it is called "okonomiyaki". But everywhere else in Japan it is called "Hiroshimayaki" to differentiate it from the Osaka-style okonomiyaki. While there are similarities between the two, there are also differences.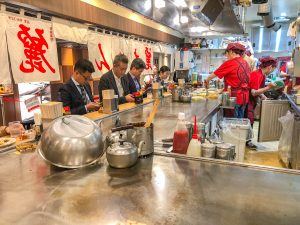 For those who do not know what okonomiyaki is, it can best be described as a savory pancake. Other than the basic ingredients listed below, the other ingredients added can vary greatly. The name okonomiyaki literally translates to "your choice grilled". Some of the other common ingredients include shrimp, squid, beef, cheese and mochi to name just a few. The okonomiyaki is prepared on a grill and topped with a special okonomiyaki sauce, Japanese mayonnaise, katsuobushi (dried fish flakes) and green seaweed flakes. The Japanese will normally go to a restaurant specializing in Okonomiyaki when going out for an okonomiyaki meal.
Origin of Hiroshimayaki
Hiroshimayaki first became available in the mid 1950's. At that time, Japan was still recovering from the war. While the economy was better, there were still many problems and food shortages. In Hiroshima, using the ingredients available, street stands started making Hiroshimayaki. It instantly became popular, and today has become a Japanese soul food.
Differences and Similarities between Hiroshimayaki and Osaka-style Okonomiyaki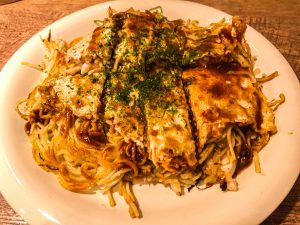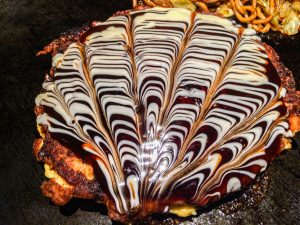 The basic ingredients used in both are the same: cabbage, egg, okonomiyaki flour, water, sprouts, green onions and pork. Originally, yamaimo (mountain potato) powder was used for the flour. But today, wheat flour mixed with soybean powder and other seasonings is used instead. However, the amount of each ingredient is much different. For example, much more cabbage is used in Hiroshimayaki. And noodles are added to Hiroshimayaki, which are not used in Osaka-style. However, if you go to an Osaka-style okonomiyaki shop and ask for a "modan-yaki" (modern style), they will add noodles.
The biggest difference is that all of the ingredients are mixed together in Osaka-style before cooking the okonomiyaki. And everything is cooked together. In Hiroshimayaki, each ingredient is cooked separately and then stacked together like a stack of pancakes. (See the two videos below.)
Where to Go
There are two small chains in Hiroshima where all of the locals go: Reichan and Micchan. Each has a shop on the first floor of the Ekie Building connected to the Shinkansen side of the Hiroshima train station. Both are excellent, but personally, I prefer Reichan. But that is a personal preference only. Around normal meal times expect long lines at both.