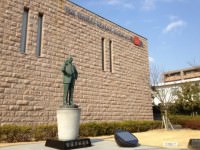 According to a poll taken in the year 2000, the Japanese believe their best invention of the 20th century was instant noodles (the second best was the Walkman). In 2010, it is estimated approximately 95 billion servings of instant noodles were eaten worldwide. It all started in the sleepy town of Ikeda located in northern Osaka. In 1958 Momofuku Ando of Nissin Foods, introduced the first instant noodle dish known as "Chicken Ramen". In 1971, he introduced the even more popular "Cup of Noodles", an instant ramen dish prepared by adding boiling water to a polystyrene cup to cook the noodles and other ingredients.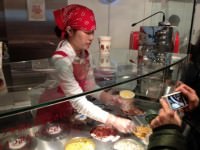 Today in Ikeda, you can visit the Instant Ramen Noodle Museum. This museum chronicles the history of Momofuku Ando and Nissin Foods from its humble beginnings in 1948 to today with offices and factories in more than 15 countries worldwide. It also documents the innovations by Nissin Foods to allow the making and mass production of instant ramen. In addition, there are two fun activities you can participate in which will allow you to learn more about instant noodles, all while having fun. You can make your own instant noodles from scratch by making your own noodles and frying them, or you can make your own personalized "Cup of Noodles". The former requires reservations, and you will need to either speak Japanese or have someone along who speaks Japanese. The latter requires no reservations, and can be done without knowing Japanese. So I will only talk about the latter here.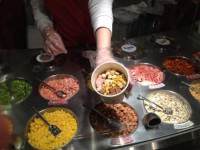 You start by paying your 300 Yen to purchase your own "Cup of Noodles" polystyrene cup. You will then be seated at a table where you will find a number of colored marking pens. You can use these to personalize your cup with your own artwork. As I have no artistic ability, I won't embarrass myself with a photo of my pitiful attempt at art. The next  step is to take your cup to a counter where your cup will be filled with noodles, and where you can choose from up to 4 items to be included in your instant ramen. The process is completed after they seal the cup with a lid and plastic shrink wrap.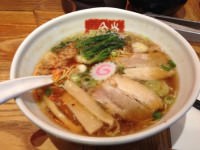 To say that ramen is popular in Japan is an understatement. There is a ramen shop on just about every street corner everywhere in Japan. But there is very little resemblance between the instant ramen and the ramen sold in restaurants. Seeing all this information about food at the museum made me hungry. Luckily, on the walk back to the Hankyu train station is an Ippudo Ramen restaurant. This restaurant chain, popular in the Kanto (Tokyo) and Kansai (Kyoto, Osaka and Kobe) regions of Japan, even has restaurants in New York City and Singapore. They have a ramen that was inspired by the "Chicken Ramen" product introduced more than fifty years ago by Nissin Foods. But this particular ramen recipe can only be found at this one Ippudo Ramen restaurant near the ramen museum.
"Itadakimasu!"
 How to get to Ikeda
From the Hankyu Umeda station, board an express train going in the direction of Takarazuka. (Takarazuka Line) The train ride will be about 20 minutes. After arriving at Ikeda station, follow the signs to the East Exit, and proceed to the left along the elevated train tracks. Turn right at the Daily Yamazaki,  and the museum will be on the right.