Konnichiwa! I'm Martin. I have been working for Samurai Tours for about 4 years. Before that, I was a database administrator but gave up the tech job due to my love for Japan. I have traveled all over the country and enjoy sharing my experiences with customers to help them plan their Japanese adventures. I was born and raised in Southern New Jersey where I still live (in the same town) with Kina, (aka Kinako-chan) my Akita.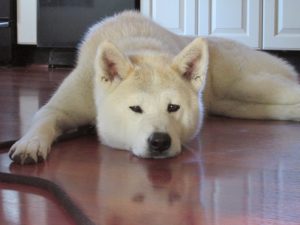 In my spare time, I play hockey and attend Japanese language classes on the weekends. I am a big fan of Japanese tea culture and you can often find me in Uji strolling along the Uji River visiting the many tea shops.
Here are some of my favorite places for tea and matcha in Uji/Kyoto (in no particular order):
Tsuen – Japan's oldest continually operating tea shop since 1160. Located at the same location on the east side of the Uji Bridge, 24 generations of the Tsuen family have served green tea to the many travelers, monks, samurai, shoguns, and now tourists.
House of Takumi Tea Room – A nice little tea room on the banks of the Uji River. You can make your own tea and matcha or have the staff help you.
Nakamura Tokichi – A 5-minute walk from Uji Station, Nakamura Tokichi's teas have been served to the royal family and have won several awards. Connected to the tea shop is an excellent restaurant that sells many tea-infused menu items. I recommend the green tea soba set meal.
Nishinoin Tea Shop and Motoan Tea House – Marukyu Koyamaen has been producing high-quality tea for over 300 years. Their matcha is used the most established tea schools in Japan. The company is based in Uji but the Nishinoin Tea Shop and Motoan Tea House is located in Kyoto.
Ippodo Tea shop and Kaboku Tea Room – Ippodo is another 300-year old tea company. Based in Kyoto, Ippodo sells some of the finest teas grown in the Kyoto area. The Ippodo Tea shop and Kaboku Tea Room can be found on Teramachi Street.