Hello! My name is Tara Schmitz and I have been with Samurai Tours for just over a year. I am in the registration department, and often I am the first person you will have contact with when you register for a tour with us. I enjoy helping our clients with all of the details of preparing for their tours with us.
I was raised in Southern California and have called Colorado home for about 15 years. I have 4 adult children and my husband and I will celebrate our 30th wedding anniversary later in 2019. We have always loved the outdoors and especially love hiking in our beautiful Colorado mountains. Some other things I have fun doing are cooking, playing games, and spending time with my family and friends. I also bake and decorate wedding cakes and have taught cake decorating classes in the past.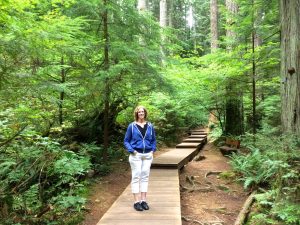 Japan is such an interesting and beautiful place! While I have not yet had the opportunity to visit there, I am looking forward to going soon. One of the things I am most excited about experiencing is all of the amazing Japanese food!
I look forward to taking care of all the details of your trip to Japan. I hope our assistance makes your visit an unforgettable one!