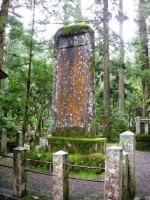 Many people visit Koya-san during the course of the year, primarily to stay overnight at one of the 55 temples offering temple lodging. And of course to tour the many historical and beautiful temples at Koya-san, including Okunoin Temple. The cemetery directly in front of Okunoin Temple is also another large draw at Koya-san. Because the oldest monument in the cemetery was constructed in the year 997, walking along the 2 km path from Ichi-no-hashi bridge to Okunoin Temple is like walking through 1,000 years of Japanese history and culture. Along the path you will find memorials to emperors, shoguns, fuedal lords, actors, singers, writers, poets and even fugu (blowfish) and termites. Having the oppurtunity to explore the cemetery with our Koya-san guide, Kaori Kodama, who has been guiding people around Koya-san for 15 years is a treat. Here are just a few of the more than 200,000 memorials found in the cemetery. (We will write about more later.)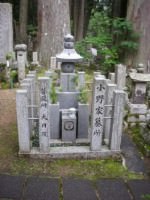 Koji Tsuruta (1924-1987)
Film Actor/Singer
Over the course of almost 40 years, Tsuruta starred in almost 260 films. Playing mostly handsome lead roles early in his career, his most famous single role was as Toshiro Mifune's rival Kojiro Sasaki in the Samarai Trilogy (1954-1956).  Mifune playing Musashi Miyamoto, defeated Tsuruta's character Sasaki in the duel at Ganryu Island, the most famous duel in Japanese history. Tsuruta was also famous for his numerous roles as a yakuza in the "ninkyo eiga" (chilvary films) that were very popular in Japan during the 1960s and 1970s. These films depicted yakuza as honorable outlaws torn between their sense of duty and their personal feelings.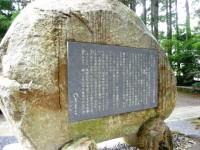 Shiba Ryotaro (1923-1996)
Writer
Shiba Ryotaro was a Japanese author best known for his novels about historical events in Japan, as well as his historical and cultural essays pertaining to Japan and its relationship to the rest of the world. One of Shiba's best known works, Ryōma Coming to Us, is a historical novel about Sakamoto Ryōma, a samurai who lived during the chaotic political period during the Meiji Restoration.  Sakamoto Ryoma gradually realized that people needed to realize how much stronger other countries had grown during Japan's two centuries of national seclusion. Japan was almost powerless in the face of the technology and well-developed industry of the contemporary Western powers. He believed that Japan needed to adopt elements of Western culture to develop into a country that could stand equally among nations of the world. These views were very unpopular with the established leadership in Japan, and made Sakamoto a target of many assasination attempts. Despite his historical significance, Sakamoto Ryōma was not well known in Japan prior to the publication of Ryoma Coming to Us.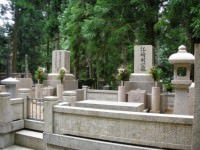 Glico
Confectionary Company
Not all memorials in the cemetery are for people. There are also many memorials for companies. Glico is a 90 year old confectionary. Their most famous product is Pocky, the Japanese snack food which is a stick-shaped biscuit covered with chocolate. Pocky was bornin in 1966 when Glico decided to cover it's previosly well-known product, Pretz with a coating of chocolate. The original was followed by "Almond Pocky" in 1971, and "Strawberry Pocky" in 1977. Today, the product line includes such variations as milk, mousse, green tea, honey, banana and coconut flavored coatings,  and "Men's Pocky," with a dark (bittersweet) chocolate. Other popular products of Glico include  Pretz, Almond Chocolate, Caplico, Bisco and curries. For those who have visited Ebisu Bashi next to Dotombori, the "Running Man" neon sign, a famous Osaka landmark is an old trademark of Glico dating back to the 1920s.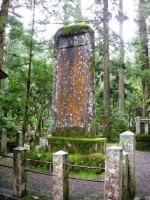 Takeda Shingen (1521-1573)
Fuedal Lord
Takeda Shingen was a preeminent fuedal lord with exceptional military talent in the late stage of the Sengoku period (warring states period) in the mid to late 17th century. The protaganist of Akira Kurosawa's film "Kagemusha" was loosely fashioned after Shingen. At the age of 21, he managed a bloodless coup of his clan, although the events regarding this change of leadership are not entirely clear. Shingen's first act was to conquer the Shinano province (today's Nagano prefecture). After he had conquered Shinano, Shingen faced off against another rival, Nagao Kagetora of the Echigo province (Niigata prefecture). The feud between them became almost legendary, and they faced each other on the battlefield five times at the battles of Kawanakajima. These battles were generally confined to controlled skirmishes, neither fuedal lord willing to commit himself entirely to a single all-out attempt. Later in his life, Shingen moved to challenge the Oda Nobunaga-Tokugawa Ieyasu alliance, leading a formidable force of over 30,000 into their territories in 1572. The exact circumstances surrounding Takeda Shingen's death are not absolutely known, and there are many different stories. The film "Kagemusha", by director Akira Kurosawa, loosely depicts one version of his death in which a single sniper shot him at night.