Whether you call the foods eaten everyday soul food, comfort food or "Mom's Home Cooking", Omu Rice (オムライス-omuraisu in Japanese) is certainly one of the most popular foods of that category in Japan. There is not one area where it is popular. Instead it is popular everywhere in Japan. It is common at "shukudo" (low price restaurants), and at specialty restaurants. Many restaurants include it on their children's menus.
What is Omu Rice?
Omu is short for omelet. Omu Rice is an omelet wrapped around fried rice. In Japan, this dish is considered western style cooking even though there is nothing like it in the west. Originally, the rice was fried with chicken and tomato ketchup, wrapped in the omelet and then covered with tomato ketchup.
I am sure you have asked yourself already, why ketchup? 100 years ago when it was first made, ketchup was something very different and exotic in Japan. Also, IMHO, tomatoes are high in umami, and so ketchup is also high in umami. So it fits the Japanese taste preferences perfectly. Today, the rice is fried with many different meats, seafood and vegetables and covered with many different sauces.
History of Omu Rice
It is thought the first time eggs and rice were cooked together was at the Rengatei Restaurant in the Ginza (http://ginzarengatei.com). A regular customer of the restaurant ordered eggs with rice every day. The owner wanted to cook something new for the customer, and he fried the eggs and rice together. In 1925 at the Hokkyokusei restaurant in Osaka (http://hokkyokusei.jp), Omu Rice as it is known today was born. The Hokkyokusei Restaurant tells the same story as to how and why it was created.
Recommendation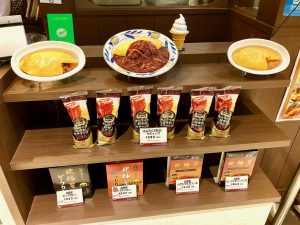 Since Omu Rice is so common in Japan, there is no special place we recommend. You might want to consider going to a specialty restaurant. Not so much because it will be better, but they will have many more different kinds to choose from.