Explore the world of digital artwork in a 10,000 square meter interactive digital art museum. The experience is different than any other museum you've been to before! The digital art collective teamLab now has a permanent home at the Mori Building Digital Art Museum. Announced as the world's first digital art museum in June 2018, the installation is making a splash on social media platforms and popular travel sites such as Travel Channel. #teamLabBorderless for a truly unique glimpse of the museum.
Mori Building Digital Art Museum uses 520 computers and 470 projectors to create an immersive experience for everyone. The artwork communicates, influences and intermingles with other works all while you are moving in and out of each room. Lose yourself in an ever-changing landscape that you take a hand in creating. No two visits will be alike. You will see how the work is truly borderless.
Crystal World and the Forest of Resonating Lamps are a must see!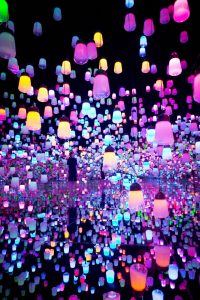 With an interactive exhibit like this, pictures only tell a small part of the story.
If you are ready to find other teamLab installations you don't have to travel far. teamLab Planets is open from July 7, 2018 – Fall 2020 and is near Shin-Toyosu Station. You can also have an extraordinary dining experience at Moon Flower Sagaya Ginza. Reservations are a must.
Where:
MORI Building DIGITAL ART MUSEUM: teamLab Borderless
Odaiba Palette Town 2F, 1-3-8 Aomi, Koto-ku, Tokyo, Japan
Address in Japanese:
森ビルデジタルアートミュージアム:エプソンチームラボボーダレス
東京都江東区青海1丁目3−8 お台場パレットタウン
Visit:
Open Weekdays 10:00 – 19:00, Sun, Sat & Holidays 10:00 – 21:00. Closed 2nd & 4th Tuesdays. Also closed on June 22, 2019
Adult tickets are JPY 3,200.
TIPS:
Get your tickets in advance! On-site tickets may be sold out.
Visit after 15:00 for fewer crowds.
Lockers are available for larger bags, backpacks and bulky items.
Download the teamLab app beforehand.
No open-toed shoes, heels or slippers. Appropriate footwear is available to rent for an additional fee.
Some rooms have mirrors on the floor, so you might want to think twice about wearing skirts or dresses.
Plan to have 2-3 hours for your visit!