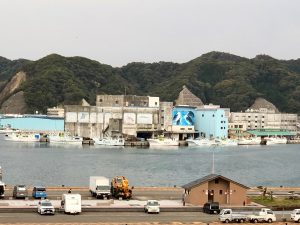 The Kii-Katsuura port boasts the largest tuna catch in Japan. There are several reasons for this. The port is close to the Kuroshio ocean current. Because the port is deep and can easily accommodate the larger boats needed for tuna fishing, Kii-Katsuura is only one of two ports in Japan that receive tuna all-year. And because the Kii-Katsuura fish market made the decision they were going to specialize in tuna, they are willing to pay more for the tuna. Every morning except for Saturday morning and days before national holidays, you can watch the lively tuna auction from the second floor observation deck. The auction starts at 7AM, and continues until all of the tuna are sold. So, if you like fresh tuna (and who doesn't?), Kii-Katsuura is one of the best places in Japan to go.
Tuna has not always been popular in Japan. Before the Edo Period, very little tuna was consumed because it will spoil quickly, making it difficult to use before refrigeration. But during the Edo Period, when vendors began selling sushi in Tokyo from street carts, it could be quickly delivered to the point of consumption making it a viable option. Because tuna has a strong umami flavor and a strong aroma, it is perfect for sushi. So it quickly became popular. And today, tuna is the most popular fish for sushi. I don't know about you, but tuna was the first sushi I tried. And it remains my favorite after 25 years.
Kii-Katsuura Onsen
In addition to tuna, Kii-Katsuura is also known for its onsen. There are two large onsen hotels in Kii-Katsuura. One hotel has a large onsen located in a sea-side cave. And the other hotel has a waterfront bath with a beautiful view of the surrounding bay and forests. And, the Nachi Taisha shrine and Nachi Waterfall, part of the World Heritage Kumano Kodo pilgrimage is only a short 30 minute bus ride from Kii-Katsuura station.
So, if combining the freshest tuna, beautiful onsen and the history and culture of the Kumano Kodo into one package sounds interesting, include Kii-Katsuura in your trip (or next trip) to Japan. (We include Kii-Katsuura on our Kumano Kodo Highlights tour (https://www.samuraitours.com/tour/kumano-kodo-highlights) and our Kumano Kodo Pilgrimage Experience tour (https://www.samuraitours.com/tour/kumano-kodo-pilgrimage-experience/).
Our Recommendation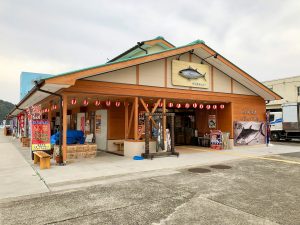 The Nigiwai Market (http://nigiwaiichiba.com) is located directly in front of the tuna and fish market. Since the tuna comes directly from the tuna auction, the tuna could not be any fresher here. There are numerous shops selling just about every type of fresh tuna such as nigiri sushi, sushi rolls, bento boxes and shinsendon (seafood rice bowl). In addition, other less common ways of preparing tuna can be found such as tuna katsu and tuna kushikatsu. There are also shops selling other foods and drinks like tofu, coffee, the ubiquitous soft ice cream, seafood curry, adult beverages, etc. There are outdoor tables facing the port where you can enjoy a relaxing meal. At the back end of the market, there is a glass enclosure where frequent tuna carving demonstrations are given.