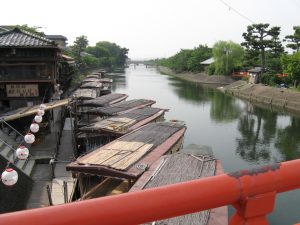 Whenever I find myself in Kyoto, I always jump on the Nara Line and head to Uji for some of Uji's famous green tea. But green tea is not the only thing that Uji is known for. It is also the home of World Heritage sites and has a connection with the Tale of Genji – the world's first novel.
The city of Uji is centrally located around the beautiful Uji River and is home to two UNESCO World Heritage sites: Ujigami Shrine and Byodoin Temple
Byodoin Temple
Byodoin Temple (平等院) is an example of Buddhist Pure Land (淨土) architecture. Together with its garden, the temple represents the Pure Land Paradise and was influential in later temple construction. Byodoin was initially built in 998 as a countryside retreat. It was later turned into a temple and construction began on the gorgeous vermillion and white main hall. Almost immediately after its construction in 1053, it was nicknamed "Phoenix Hall" (鳳凰堂). This is due to its shape and the two phoenix statues on its roof which many may recognize as being on the Japanese 10-yen coin.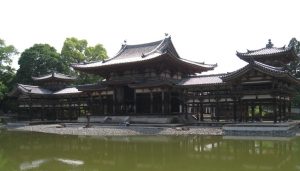 Located toward the back of the temple grounds is the Hoshokan Museum. This large treasure house was built mostly underground so as not to spoil the temple scenery and contains an impressive number of exhibits, many of which are designated as national treasures or important cultural properties. These include a number of Buddhist statues, a temple bell and many excavated items dating back to the Heian period.
The garden on the temple grounds is also stunning, and there is also a teahouse where you can enjoy high-grade Uji matcha.
Ujigami Shrine
Located close to Byodoin Temple is Ujigami Shrine (宇治上神社) another UNESCO recognized site. The shrine was built as a guardian shrine for Byodoin Temple and is believed to be the oldest standing shrine in Japan. The shrine is thought to have around one thousand years of history and is surrounded by lush greenery, adding to its quiet atmosphere. Upon entering the shrine grounds you will see a basin which is fed by a famous freshwater spring. This water, used in tea ceremonies, is among the "Seven best waters of Uji" and is rumored to have special properties.
Tale of Genji
Thought to be the first full-length novel in the world, "The Tale of Genji" is perhaps the most well-known work of Japanese literature in the world. Written by Murasaki Shikibu, the tales describe the main character's love affairs during Japan's Heian era (794 – 1185). This tale is still read and enjoyed by people today. At The Tale of Genji Museum in Uji, visitors can learn all about this literary and historical masterpiece.
Uji Tea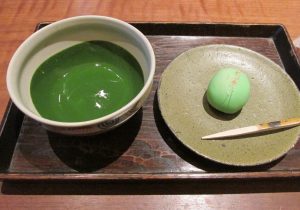 Uji tea, along with Shizuoka and Sayama teas, is one of the three most highly-regarded green teas in Japan. Teas made from leaves harvested in Uji or the surrounding prefectures are considered Uji tea. There are many tea shops and cafes in Uji. Not only do these shops sell tea, but they also have seasonal treats like matcha shaved ice and soft serve ice cream. Sweets made with green tea are sold as well.
Some shops will have an eat-in space where you can enjoy your tea. The most notable shop is Tsuen, Japan's oldest continually operating tea shop since 1160. Located at the same location on the east side of the Uji Bridge, 24 generations of the Tsuen family have served green tea to the many travelers, monks, samurai, shoguns, and now tourists that cross this important bridge between Kyoto and Nara. Visitors should be sure to try at least one cup of Uji tea, which has a full-bodied aroma and flavor. It makes a thoughtful souvenir too.