When looking at our tours, you will notice that we often stay at ryokans, instead of  a "western style hotel".  So what is a ryokan?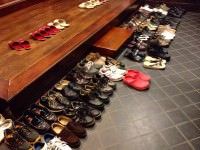 Well first, so you know how to pronounce it, say it with me: ree-o-kahn. A ryokan is a traditional Japanese inn.  They are smaller, more quaint, and often more hospitable than your mainstream hotel.  Since our tour groups max out at 16 people, it allows us to have the opportunity to stay at such wonderful facilities. You could almost compare the mannerisms to bed and breakfast lodging that we are used to in Western culture, though the room layout is very different.  The rooms will have traditional tatami (straw) mats on the floor, and you will have your own mattress (similar to a futon mattress) to sleep on.  You can often layer a couple of these mattresses to give yourself a little extra height and/or cushion.  Some ryokans offer a few western-style rooms, but you will need to check with us on the particular tour you are interested in to see if this option is available.  The food is also very wonderful (they can cook for a smaller amount of people, giving their food more attention to detail). The "Kaiseki-style" dinners are a treat for both your tastebuds and your eyes. Everything is delicious and served with excellent presentation.
In your room, you will be provided with a Yukata (cotton kimonos) for use in your room and around the ryokan. It is even acceptable to wear them outside of the ryokan, and since they are so comfortable you just may want to.  During the day your room can be used as a living room. But during the evening, the room is transformed to a bedroom when the bedding is taken from the storage closets and prepared on the tatami mats.
In almost all cases, you will have your own private bath and western-style toilet in your room.  Ryokans also provide common, public bathing facilities which are traditionally enjoyed communally in a large bath or sometimes in a small wooden tub for one or two bathers, with separate facilities for men and women. Some ryokans offer "family" baths that can be locked-off and used by a single family.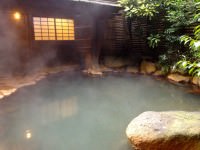 With my experience in Japan at the ryokans we visited, I was always greeted with a warm smile, and you often get to meet the owner of the establishment.  There was one time in Miyajima Island where we were walking around outside, and it had just rained so it was a bit muddy.  At this particular ryokan, we take our shoes off at the entrance.  I came down a bit later to find an employee cleaning off all of our muddy shoes!  I was blown away by their kindness…that is not something you would see normally in a mainstream hotel!
So enjoy the culture of Japan and relax in the traditional hospitality of a ryokan.