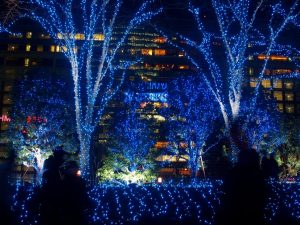 Winter illuminations around Christmas and New Year have become extremely popular in cities across Japan. Illuminations are usually displayed between November and December, but some run longer, starting as early as October and running until Valentine's Day or even into spring. Below are some of Japan's crowd-pleasing seasonal illumination spots:
(Pictures are from previous years)
Tokyo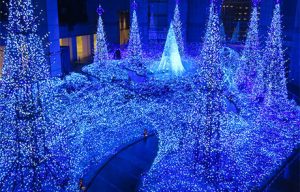 Caretta Illumination:
November 14, 2019 to February 14, 2020
From 17:00 to 23:00 (from 18:00 after January 2)
Admission: Free
Access: 5-minute walk from Shimbashi Station
Caretta Shiodome hosts an annual illumination event featuring thousands of LED lights. Nearby Shiodome City Center puts on its own illuminations.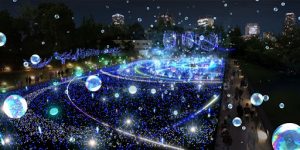 Tokyo Midtown
November 14 to December 25, 2019; 17:00 to 23:00
Admission: Free
Access: A few steps from Roppongi Station
Tokyo Midtown's "Midtown Christmas" involves multiple illumination areas around the Midtown complex. The "Starlight Garden" is a particularly popular and attractive display located in the park behind the main tower.
More illumination displays in Tokyo…
Kanagawa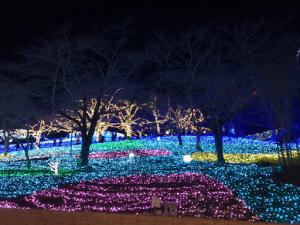 Sagamiko Illumillion
November 2, 2019 to April 5, 2020 (closed every Wed and Thur from 1/8 to 3/12)
Sunset to 21:00 (until 21:30 on weekends and holidays in Nov and Dec and every day from 12/21 to 1/5); admission ends 30 minutes before closing
Admission: 1000 yen
Access: 8-minute bus ride from JR Sagamiko Station
The Sagamiko Illumillion in Lake Sagami Resort Pleasure Forest is one of the largest seasonal illuminations in the Kanto Region. Visitors to the illumination event can see about six million LED lights covering the hillsides in color, an animated light show and dancing water fountain set to music, light tunnels, a chair lift up the hillside and amusement park rides including a Ferris wheel.
Sendai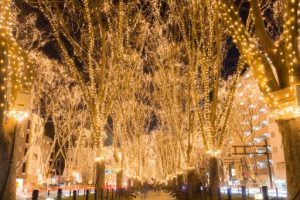 Sendai Pageant of Starlight
December 6 to 31, 2019; 17:30 to 22:00 (until 23:00 on Fridays and Saturdays and until 24:00 on December 31)
Admission: Free
Access: 20-minute walk from JR Sendai Station
This illumination event in Sendai is located along Jozenji-dori Street with about 160 keyaki (zelkova) trees, which are decorated with over half a million LED lights that cover the area. Other attractions include a small ice skating rink, a large Christmas tree and a light tunnel over at Kotodai Park.
Tochigi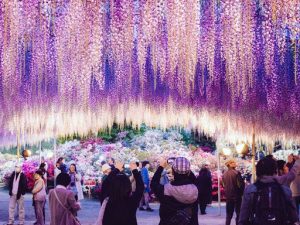 Ashikaga Flower Fantasy
November 2, 2019 to February 6, 2020 (closed on December 31)
16:30 to 21:00 (until 21:30 weekends and holidays)
Admission: 900 yen
Access: A few steps from the JR Ashikaga Flower Park Station
The Ashikaga Flower Fantasy in Ashikaga Flower Park is one of the Kanto Region's top three largest seasonal illumination events with over five million LED lights covering most of the park. Attractions include hanging lights that are meant to resemble seasonal flowers and music-synchronized light shows.
Nagoya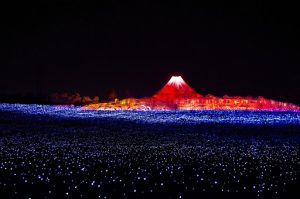 Nabana no Sato Winter Illumination
 October 19, 2019 to May 6, 2020
9:00 to 21:00 (until 22:00 on selected busy days)
Admission: 2300 yen
Access: 30 minutes by bus and train from central Nagoya
With millions of LED lights illuminating the flower park, Nabana no Sato is one of the largest illumination events in Japan. There are various attractions including a huge field transformed into a sea of lights below an animated light show, light tunnels and an observation deck that lifts visitors high above the park where they can get a bird's eye view of the lights.
Osaka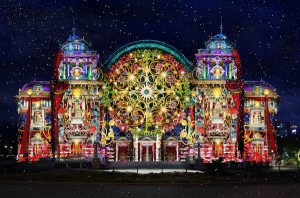 Osaka Hikari Renaissance
December 14 to 25, 2019; 17:00 to 22:00
Admission: Free
Access: Short walk from Yodoyabashi or Naniwabashi Station
Nakanoshima Island hosts the Osaka Hikari Renaissance illumination event, stretching from Osaka City Hall to the eastern tip of Nakanoshima Park. Several of the historic buildings on the island are lit up with creative displays, and the light tunnels, art installations and food vendors around create a festive atmosphere.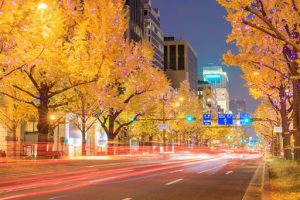 Midosuji Illumination
November 4 to December 31, 2019; 17:00 to 23:00
Admission: Free
Access: many stations along Midosuji Street, incl. Yodoyabashi and Shinsaibashi
The Midosuji Illumination stretches almost the entire length of the three-kilometer long Midosuji Street through central Osaka, making it one of the world's longest illuminated streets. Hundreds of ginkgo trees as well as several shops and historic buildings that line the street are decked out in colorful lights and decorations.
Find a tour where you can visit these beautiful attractions in person on our Tour Schedule!