Food Specialties in Northern Japan
We are going to list a few of our favorite food specialties in northern Japan. This is by no means a complete list. Because there are so many, there is no way to list all of the food specialties in northern Japan. We are going to break down the list by northern, central and southern Japan. This list will focus on the food specialties in northern Japan.
The only exposure most people have had to Japanese food is sushi. Because of that, most people think Japanese people only eat sushi. Nothing could be further from the truth. One of the problems is the availability of the ingredients used in Japanese cooking. Many of the ingredients are not commonly available outside of Japan. Because of that, truly authentic Japanese food is very difficult to find outside of Japan. 
We strongly believe that Japanese food is the most underrated aspect of travel to Japan. At the end of our tours, many of our tour members comment on the quality of food in Japan. As you travel around Japan, you will find each region of Japan has its own food specialties and varieties. Our recommendation is to try whatever the local specialty may be. You will never be disappointed.
Sapporo Food Specialties
For the Japanese, Sapporo is becoming a foodie destination. The number of options is limitless. And due to its proximity to the ocean, the seafood options is extremely fresh. Other options in Sapporo include crab, scallops and butter corn ramen.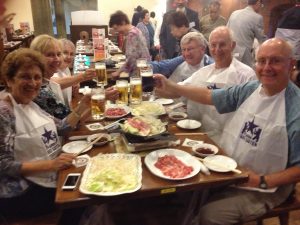 Genghis Khan
Named after the man who founded the Mongol Empire in the early 13th century, Genghis Khan is a dish consisting of meat (usually lamb) and vegetables (usually cabbage, onion, sprouts, squash, etc.) cooked on a dome shaped metal grill in the middle of the table. The meat is usually dipped in a soy based sauce and eaten right off the grill. The best place in Sapporo to enjoy a fun Genghis Khan meal is at the Sapporo Beer Garden. You can get an all you can eat lamb dinner, and an all you can drink supply of Sapporo Beer.
Miso Ramen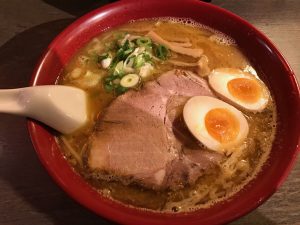 Miso Ramen is Sapporo's most popular soul food. During the cold winter months, nothing is better than a hot bowl of miso ramen. And during the world-famous winter festival held every year in early February, there are numerous food stalls on Odori Park (the main site of the festival), selling miso ramen. The best place to go for miso ramen is the Ramen Yokocho (Ramen Alley), a narrow lane lined with shops serving miso ramen. Check out our blog at the link below for more information about miso ramen.
Soup Curry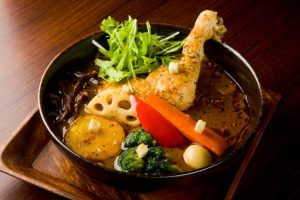 The first major evolution of post roux-based Japanese curry happened in the 1970s in Sapporo, Hokkaido, where a shop called Ajanta had a chicken soup based on yakuzen (Chinese medicinal food theories) on its menu as well as a curry. Legend has it that a customer suggested combining the two dishes. Initially the new hybrid dish was a mainly liquid soup called yakuzen curry, but it soon evolved to include other ingredients such as chicken and chunky vegetables. In 1993, a restaurant called Magic Spice, dubbed it "soup curry," and the name remains.
Soup curry has a liquid, soup-like base — usually a chicken bone stock made using Cantonese methods — and, as its name indicates, is not thickened with roux. The type of meat used varies from chicken to pork, beef or lamb. Almost any kind of vegetables are often added.
Hakodate Food Specialties
Some of the other specialties of Hakodate are squid (ika), crab (kani), salmon eggs (ikura), sea urchin (uni) and many others. The Hakodate Morning Market is a good place to visit where many shops offer individual servings of the these items that come straight from the fishing boats to the market.
Goshokudon (Five-Color Rice Bowl)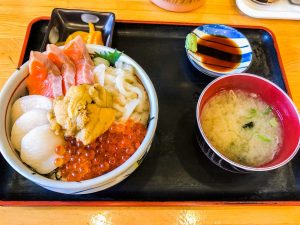 Hakodate is known in Japan for its fresh seafood. One popular way to enjoy the seafood in Hakodate is Goshokudon. Goshokudon literally translates to five color rice bowl. Five different types of seafood are placed on top of rice, and served with miso soup and pickles. The best place for Goshokudon is Donburi Yokocho (Rice Bowl Alley). It is connected to the morning market, and just on the other side of the parking lot in front of Hakodate station. It is a long corridor with numerous restaurants all selling goshokudon and other fresh seafood. Since all of the seafood served here comes directly from the market and from the fishing boats, this is the best place to enjoy goshokudon and other fresh seafood. Any of the shops here are excellent, but the Ikuratei is my personal favorite. Visit the blog below for more information.
Niigata, Yamagata and Akita Prefectures in Tohoku Food Specialties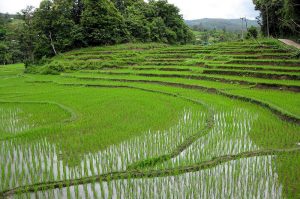 The Japanese say that the best rice comes from these three prefectures in Tohoku. And according to the Japanese government, the rice from the city of Tsuruoka in Yamagata prefecture in the middle of these three prefectures has the most Umami in Japan. There are about 240 different types of rice grown in Japan. There is a special rice for sushi. There is a special rice for making sake. There is a special rice for making miso soup. There is a special rice for making mochi. And there are many other specialty rices meant for special purposes.  The most common rice grown in these three prefectures is "koshihikari". It is also grown in Australia and the United States. It was created in 1956 specifically for the colder climate in Tohoku. It is the most common rice type grown in Japan, and it is what most Japanese households use on a daily basis.
Sendai Food Specialties
Zundamochi (a combination of mochi and mashed edamame) and sasa kamaboko (steamed bamboo leaf shaped processed whitefish) are other Sendai specialties.
Gyutan (Beef Tongue)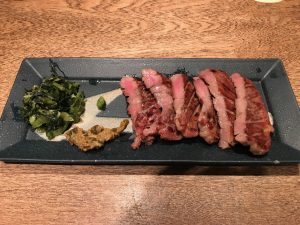 "Gyu" is the Japanese word for beef, and "tan" is the Japanese version of the English word tongue. Gyutan (beef tongue) is popular all over Japan, but it is most popular in Sendai. This is partly due to the fact that cooking beef tongue in Japan originated in Sendai in 1948. Gyutan itself consists of thinly sliced beef tongue. It is normally salted and then grilled an an open charcoal grill. A typical beef tongue set meal includes barley rice, oxtail soup and pickles. Find out more at our blog.
Nagano Food Specialties
Other popular food specialties in Nagano are "Oyaki" (made from fermented soba dough, stuffed with many different vegetables and grilled), Nozawana-zuke (one of the most popular pickle types in Japan) and "basashi" (horse sashimi).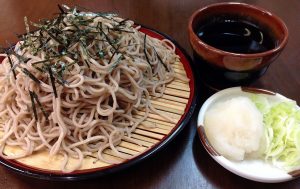 Shinshu Soba
Soba, made from buckwheat, is one of the most popular noodle types in Japan. Soba can be traced all the way back to the Edo Period. Shinshu Soba from Nagano is generally considered to be some of the best soba in Japan. This is due to the geographical characteristics of the region, the weather and the water. Nagano is the second highest producer of soba in Japan.