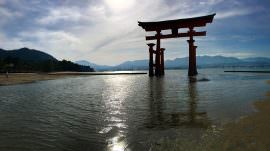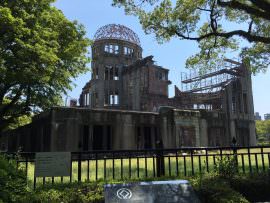 Miyajima Island may be one of the most beautiful and awe-inspiring places in Japan. Even the ferry ride from Hiroshima to the island is quite something. Seeing Miyajima Island from a distance as you slowly ferry towards the port gives you a glimpse into all of its splendor.
When we arrived on the island we were greeted by friendly little deer who have no problem asking for a little scratch behind the ear. Don't get too comfortable with them though….they have no boundaries when it comes to your food and will literally take it out of your hand.
Strolling down the boardwalk during sunset is truly spectacular. We walked barefoot on the beach and watched as the tide started coming in. The most popular tourist attraction, and perhaps the most well-known tourist attraction in Japan, is the Itsukushima Shrine (known for its "floating" torii gate). This torii gate sits in the water, and when the tide is low enough you can actually walk to it and understand how massive it really is. At sunset it becomes an incredible photogenic masterpiece, and at night it is lit up and looks truly magical.
In the morning we took a short hike up to where you can catch a cable car that will take you to the top of the island. I would recommend taking the cable car to anyone visiting the island, as this gives you a view of the entire island, and incredible perspective that you can't get from anywhere else. There are many activities to do on the island including hiking, visiting the aquarium, and shopping, however Miyajima Island is known for its food so be sure to come with an appetite!
On our way back from Miyajima Island we stopped in Hiroshima for a few hours to check out the Peace Park and museum. This is a sensational experience that hits home for many people as you can see incredible pieces of history come to life, as well as stories and memories of people who were so affected by WWII. Although there isn't too much to see in Hiroshima, the Peace Park and Museum are well worth the few hours.
Miyajima Island and Hiroshima are two places that seem to be well-known by many, but experienced by few. There is such majesty that can be found in these small areas of Japan, and we were so happy to get to experience them.