This has been an incredibly fast paced and adventurous trip for us. There is so much to see in Japan, and we have only seen a small bit of it. After trekking from Magome to Tsumago, we went to Takayama. Takayama is in the Japanese Alps and is filled with beautiful scenery and delicious Hida Beef. We spent our two days in Takayama exploring the morning markets, wandering around old shops and eating our weight in Hida Beef. The morning markets feel like a scene from a movie, with small tents and shops lining a river walkway. Each little shop specialized in something different, from homemade jewelry to home grown produce or honey. As we tasted samples and explored this beautiful place, we were reminded once again of how beautiful the culture of Japan is. They have somehow maintained their history and all the charm that comes with it.
After spending the entire day walking, we were hungry and ready for this famous beef…and let me tell you, it is the best beef I have ever had. Takayama is famous for its Hida Beef and there are many restaurants serving this delicious dish. We ordered a somewhat extravagant plate of beef and vegetables and cooked them on the small grill in the middle of our table. The beef is famous for its marbling, making it the most tender and succulent piece of meat you will ever eat. In the busy seasons, I would recommend getting to a Hida Beef restaurant early, just to be sure you get a table. Full disclosure: we ended up eating two large plates of beef. When in Rome…right?
From Takayama we traveled by express train, subway, cable car and bus to Koyasan. It took us about 6 hours to get there, but the trip was well worth it. We stepped off of the bus and into one of the most scenic and historical places I have ever seen. Koyasan was first settled in 819 and is considered the headquarters of Shingon sect of Japanese Buddhism. Because of its vast and well maintained history, it is registered as a World Heritage Sight. One of the most unique things about staying in Koyasan is the chance to stay at a Buddhist Temple. The Buddhist monks prepare Buddhist vegetarian dinners and breakfast for the guests staying at the temples. These meals were delicious and different from anything I had ever eaten. After dinner we decided to walk through the Okunoin Cemetery, Japan's largest cemetery. The pathway is lit by lanterns and the cedar trees seem even more towering at night (I would recommend walking the entire way in the morning). Each morning the temple holds a Buddhist prayer service before breakfast. The monks gather together to chant and pray while temple guests observe from the back of the room. Culturally speaking, this is one of the most fascinating experiences I had in Japan.
Many of our tour packages offer both of these experiences, and I can see why they are a top favorite among many of our clients. The traditional mixed with the modern culture in both of these places offers a truly exceptional experience…one that we will never forget.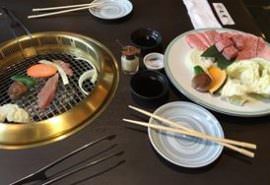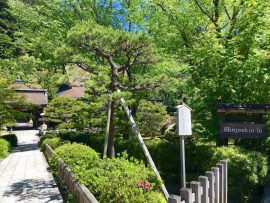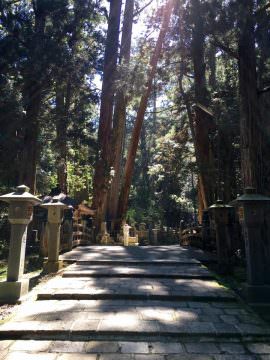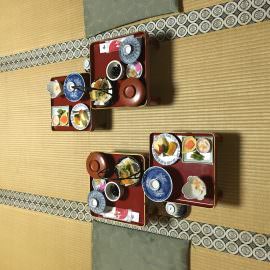 0